GIL Fund the Future, Nov 5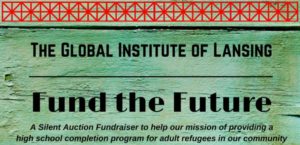 The Global Institute of Lansing (GIL) invites you to our "Fund the Future" fundraiser on Saturday, November 5th from 5:30pm to 7:30pm. The event is being held at AA Creative Corridor (1133 S. Washington Ave., Lansing). Tickets are $25 and can be purchased at the door or on-line at: https://www.eventbrite.com/e/fund-the-future-tickets-27605423565
There will be a silent auction, live music/performances, and various ethnic foods. All funds raised at this event will go toward student tuition as well as scholarship money to help our graduates purchase items for post-secondary education/training (laptops, graphing calculators, steel toed boots for vocational programs, etc.) We hope you can join us for this exciting event and hep support a great cause.
---