Christmas Worship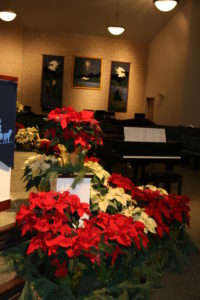 Service of the Longest Night, Thursday December 21, 7:00 p.m.
Mt. Hope United Methodist Church, 501 E. Mt. Hope Ave, Lansing
Sponsored by: The All Faith Alliance for Refugees (AFAR) including leadership from our church. See our post for more about the service.
Click here.
Fourth Sunday of Advent, Sunday Morning, December 24, 10:00 a.m.
Christmas Eve Worship and Pageant, December 24, 6:00 p.m.
This is a family-friendly worship service that features Christmas Carols and a telling of the Christmas story through a pageant where all children who desire may participate.
Candlelight & Communion Christmas Eve Worship,  December 24, 8:00 p.m.
This is a traditional Christmas Eve worship service that tells the Christmas story through lessons, carols and candlelight. We observe the Sacrament of Communion.
---