Entertaining Angels
June 16, 2019
Genesis 18:1-18
Rev. Alice Fleming Townley
 The Lord appeared to Abraham by the oaks of Mamre, as he sat at the entrance of his tent in the heat of the day. 2 He looked up and saw three men standing near him. When he saw them, he ran from the tent entrance to meet them, and bowed down to the ground. 3 He said, "My lord, if I find favor with you, do not pass by your servant. 4 Let a little water be brought, and wash your feet, and rest yourselves under the tree. 5 Let me bring a little bread, that you may refresh yourselves, and after that you may pass on—since you have come to your servant." So they said, "Do as you have said." 6 And Abraham hastened into the tent to Sarah, and said, "Make ready quickly three measures of choice flour, knead it, and make cakes." 7 Abraham ran to the herd, and took a calf, tender and good, and gave it to the servant, who hastened to prepare it. 8 Then he took curds and milk and the calf that he had prepared, and set it before them; and he stood by them under the tree while they ate.  Genesis 18:1-8
One afternoon visitors came to the tent of Abraham and Sarah.  Have you ever had a knock at the door you weren't expecting?  When that happens to me, I quickly wonder, "Who is it?  And if it is a dear friend, "Oh, what can I offer them to eat?  What shape is the living room in?  And the bathrooms?" And if it is someone I don't know; I am often suspicious.
Abraham beheld these three strangers, and recognizing the presence of the Holy, bowed and called them 'Lord.'  Abraham and Sarah's first instinct was one of invitation and hospitality. They created a sacred space with food and conversation.
The story inspired iconographer Andrei Rublev's (1360-1430) art that we know as The Hospitality of Abraham or as The Trinity.  The icon shows the Holy One in the form of Three, eating and drinking, in infinite hospitality and utter enjoyment between themselves.  Richard Rohr says that "if we take the depiction of God in The Trinity seriously, we have to say, "In the beginning was the Relationship."   In the icon The Father is gold, the ultimate source, wholeness, fullness.  The incarnate Christ is blue—as both the sky and the sea, and holding up two fingers, bringing together divinity and humanity.  And the Spirit is depicted as green, the color of growth.[i]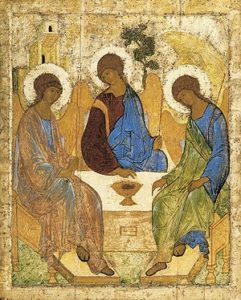 The gaze between the Three shows the deep respect between them and they share from a common bowl.  Note the Spirit's hand points toward an open and fourth place at the table.  Inviting and clearing space.  At the front is a little rectangle.  It is believed by some that a little mirror once fit in that space.  There was room at the table for a fourth, for the observer, and all of creation.  Richard Rohr says, 'We are invited to sit at the table, to participate in the divine dance of mutual friendship and love." [ii]    In the beginning was the Relationship, calling us into relationship. Calling us to create sacred spaces, of invitation and hospitality.
This Father's Day, I give thanks for my father and husband who partner to create such spaces in our homes and communities, and for Jean Vanier who created such spaces in communities around the world.  Jean Vanier served in the French Royal Navy in WWII and then taught Philosophy in Toronto. Vanier was first introduced to the idea of an intentional community while visiting Harlem in the 1940s.  It was there he met the people of The Friendship House—an experiment in cross-racial living, founded by Catholics, and being replicated across the US and Canada.  Later, on a trip back to France a local priest took him to an institution in Trosley where he saw disabled persons neglected and forgotten.  Jean Vanier was deeply troubled and wondered, 'what if?'.  In 1964 he invited 2 of these men to live with him in Trosley and this became the first L'Arche community.  It did not take long for the community to grow and spread.
I was first introduced to the L'Arche community through the writings of Father Henri Nouwen.  He had felt there was something he was missing that he could not grasp through intellectual and professional assent.   Henri Nouwen left his teaching position at Harvard, to join a L'Arche community and care for a young man named Adam.  He learned from Adam, how to give and receive love, how to make faith connections not just in his head, but also through heart and body.
For Jean Vanier, the purpose of L'Arche was to dismantle violence by reorienting towards those most vulnerable and neglected.  He found fullness of life in communities based on mutuality, respect and care.  He would say that this was not a stressful burden as outsiders might suspect.  He experienced at L'Arche a wellspring of joy—full of eating and drinking, singing, dancing and playing as much as possible.[iii]  In the beginning was Relationship and we are called into relationship.
It is that holy calling of invitation and hospitality with the most vulnerable that has long drawn this church into intentional welcome and support of refugees.  One of the high school graduates we recognized last week was Abed,[iv] originally from Afghanistan.  Abed was 14 when his father died.  Abed was too young to take over the farm, yet as the only male in the household, he was expected to care for his mother and older sisters.  Abed did what he could to support them by selling his family's yams and handmade clothes on the streets.  For years, the Taliban would frequent his village and demand whatever they wanted and kill anyone who tried to stand up to them.
One night another child from the village came running to find Abed, "Some Taliban are coming for you.  They want to kill you.  You better run." His Mother realized that if Abed was to survive, he must flee immediately.  With the help of an uncle in another city, Abed was able to fly to India and then Indonesia where he applied for refugee status.  At first, Abed slept outside on cardboard, but then eventually in a detention house with 13 boys to a room, and then to another shelter.  The rough conditions were like a jail.  He was hungry and homesick, but what was he to do?  Finally, in October 2016 Abed was resettled to Lansing, Michigan.  A few months later, Abed met Judi Harris.  "Would you be my mother?" he asked.  Once again, our church member Judi Harris, opened her home and table and heart.  Abed joined siblings from around the world.  Abed has just graduated from Okemos High School with a math award, and thanks to recommendations from another church member, will start at Western Michigan University in the fall.  Abed's dreams of one day being able to sponsor his mother and sisters to come to America.
For decades our church supported refugees within the larger culture of bi-partisan and interfaith support.  In recent years, white nationalist hate groups have targeted refugees and immigrants as suspicious.[v]  This has seeped into current administration's policies, drastically curtailing and threatening to dismantle the resettlement program.  With such pressure it may be tempting to turn away in discouragement. It's 'controversial.' What can we do anyway?
The resettlement program we had functioned well for over 40 years and strengthened our communities.   We can remember and name the vulnerable who languish in camps who others may want to discard and forget.  Remembering, naming and lamenting are all faithful acts of resistance.  We can do this in our circles of influence: with friends, family, churches, elected officials, work places, and media.   We can seek to protect safe space and to share food and conversation, just as Abraham and Sarah did with the three strangers.  Later Abraham and Sarah's lives would depend on others doing the same for them. We can support leaders and agencies who do this daily in our community.
In March, our church, together with the All Faith Alliance for Refugees, sponsored a choral benefit concert which raised over $10,000 to support STVCC refugee resettlement in the Lansing area.  This week the national report of the Refugee Council USA named our community fundraising effort as a bright spot amidst grim statistics of cuts.[vi]  While some scheme for destruction, we are partnering to shine light, not just in our community, but across the country, to those wondering if they can find a space to live and if they are welcome here, and others who have long led the welcome, and others who wonder what they can do.
Tomorrow at 11am at First Presbyterian Church in Lansing is the graduation party at the Global Institute of Lansing (GIL), the school our church helped start and still supports for refugees to earn a high school diploma.  We can show our support by celebrating with recent graduates and volunteer staff.
We have now begun to organize with AFAR and area Presbyterian churches a refugee summit to increase welcome and advocacy on Saturday, September 28.   We will bring in Susah Krebiehl from the Presbyterian Disaster Assistance program to lead a community wide education and empowerment event. Our own Stephanie Nawyn, Paula Frantz and Judi Harris will also speak.
Today is Trinity Sunday, and we remember in the beginning was Relationship and we are called into relationship.  Today is Father's Day, and we give thanks for fathers and those who have intentionally collaborated to create spaces of mutual respect and care in our homes, churches, communities, and world–for children, the aged, the differently abled, friends and strangers, and especially the most vulnerable.  We remember that Sarah and Abraham were able to both share and receive life-changing space.  This is World Refugee Week, and we recommit to the faithful work of resisting temptations and remembering our shared call.  This is who we are and what we do.  Our Triune God has and is and will be our guide, our strength, and our wellspring.  Amen.
---
[i] As Hildegaard of Bingen would say, the greening of all things, viriditis, divine photosynthesis that grows everything from within by transforming light into itself.
[ii] Richard Rohr, "Take Your Place at the Table," Theme: Trinity: Part 1, Monday May 6, 2019, Center for Action and Contemplation.
[iii] Melissa Florer-Bixler, "Jean Vanier [1928-2019]: Vulnerable at the core," Christian Century, June 5, 2019.
[iv] Name has been changed.
[v] Stephanie Nawyn, "Religion and Refugees are deeply entwined in the U.S." The Conversation, October 31, 2018, https://theconversation.com/religion-and-refugees-are-deeply-entwined-in-the-us-105923
[vi] p. 18, "Drastic Cuts to Refugee Resettlement Harming Refugees, Communities, and American Leadership," Refugee Council USA, June 2019, http://www.rcusa.org/report?fbclid=IwAR19HG0s0z2ba0En41I8XctIweDrdxJBhHDvwWPVOWGJu1FuzYydjsW9yMs
---