Lessons and Carols, Dec. 1, 7 pm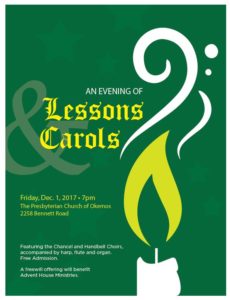 Enjoy an evening of Christmas music that will benefit Advent House Ministries!   What better way to savor the true meanings of this joyous season!
Please join us at the Presbyterian Church of Okemos for "An Evening of Lessons and Carols" on Friday, Dec.1, at 7:00 p.m.  The Concert will feature the Chancel and Handbell choirs with students from the MSU College of Music accompanied by harp, flute, and organ. Christmas music old and new, and some carols for all to sing. Admission free. Donations will go to Advent House Ministries,  celebrating its 30th anniversary of service to the Lansing community. Nursery care will be provided.
Click here for letter size handout.  Click here for 2-up handouts.
Below is a clip from last year's Lessons and Carols Service:
---