Staff Openings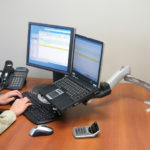 The Presbyterian Church of Okemos is inviting applications for two staff positions.
Office Manager – The Presbyterian Church of Okemos is seeking a part-time Office Manager, who will serve as the office manager, administrative assistant and clerical support person for the church office managing church records and all communications.
Responsibilities include: the preparation, proofreading, and distribution of regular church documents including weekly bulletins, monthly newsletters, and occasional special communications.
It also includes working with church committees and staff to share information about church events; maintains the events calendar (both in-building and virtual); assisting in providing pre-recorded videos for virtual worship services; and keeps church website and Facebook accounts up to date. During working hours when the church building is open again responsibilities will also include answering phones and greeting visitors. Apply by June 15,
Click here for position description.
Communications Assistant – Assistant to coordinate online worship by assisting lay members with directions for preparing video contributions, collecting videos and audio files, and preparing the main worship movie presentation. Secondary role is assisting with MailChimp announcements, social media and the WordPress web site. Apply by June 12.
---