Hearing Accommodations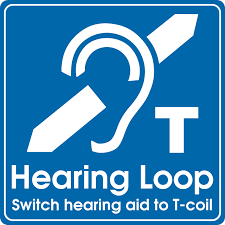 A hearing loop system around the perimeter of the sanctuary projects a magnetic signal to a telecoil (T-coil) receiver, found in the majority of hearing aids manufactured today.  Ask your audiologist if you are unsure about your hearing aid's ability to acquire this signal.
If you have a hearing aid with a T-coil, the loop system will allow your hearing aid to become a personal sound system. It will pick up the sound directly from the microphone.  Background noise is blocked. Just before the service, activate by switching your hearing aid to the "T" position.
If your hearing aid does not having a T-coil feature or if you do not have hearing aids, you can use the Sound Mates amplifiers located just outside the sanctuary in fellowship hall that include an earpiece.  In addition, we have two hearing aid loop receivers that pick up the t-coil signal and work with an earpiece like the Sound Mates.